Pet grooming is an essential aspect of pet care that contributes to your furry friend's overall health and happiness. From brushing and bathing to nail trimming and ear cleaning, the proper grooming techniques and tools can help to maintain your pet's hygiene, comfort, and appearance. Whether you're a seasoned pet parent or a new owner, it's important to understand the basics of pet grooming to ensure that you provide your pet with the best possible care. This article will explore the essential tools and techniques for pet grooming and provide you with the knowledge you need to get started.
Why is Pet Grooming essential?
                    Pet grooming refers to regularly maintaining a pet's appearance and hygiene, including bathing, brushing, and clipping fur. It is an essential aspect of pet care that helps keep your pet healthy and looking its best. Grooming can help prevent skin conditions, keep their fur free of tangles and mats, and improve their overall comfort. It also helps keep pests like fleas and ticks at bay. Further, regular grooming sessions can allow you to check your pet's skin and fur for any signs of injury or illness. 
Essential Tools for Pet Grooming
Pet grooming requires various tools to clean and maintain a pet's look. Some of the essential tools include:
Brushes and combs: Removing tangles, mats, and loose hair from a pet's fur.

Shampoo and conditioner: specially formulated for pets to clean and condition their skin and fur.

Scissors and clippers: for trimming and shaping a pet's fur.

Nail trimmers: for cutting a pet's nails to prevent injury and keep them from becoming too long.

Ear cleaner: for cleaning and maintaining a pet's ear hygiene.

Towels and blow dryer: for drying a pet after a bath.
Having the right tools on hand is necessary for a successful grooming session. It can also make the process much easier and less stressful for you and your pet. Choose high-quality tools designed for pets to ensure the grooming process is safe, effective, and enjoyable.
What are Basic Pet Grooming Techniques?
Basic pet grooming techniques include:
Brushing and combing: Regular brushing and combing help remove tangles, mats, and loose hair from a pet's fur.

Bathing: Bathing a pet helps keep their skin and fur clean, reducing the risk of skin conditions and infections.

Nail trimming: Cutting a pet's nails to prevent them from becoming too long can cause injury and discomfort.

Ear cleaning: Keeping a pet's ears clean helps prevent ear infections and maintains their overall ear hygiene.

Trimming fur: Trimming or clipping a pet's fur can help keep them looking neat and tidy and prevent tangles and mats.
Use the proper techniques and tools for each grooming task to ensure your pet's safe and effective grooming experience.
What are Advanced Pet Grooming Techniques?
Advanced pet grooming techniques include:
Scissoring and shaping: Creating a specific haircut or trim using scissors and clippers requires training and experience.

Hand stripping: A technique for removing dead hair from certain breeds of dogs, such as terriers, to maintain their rough coat texture.

De-matting: Carefully remove mats from a pet's fur without cutting or damaging the skin.

De-shedding: Reducing the amount of loose hair a pet sheds by using specialized brushes and techniques.

Creative grooming: Decorative grooming techniques, such as dying a pet's fur or adding temporary tattoos, can be done by experienced and trained groomers.
Teeth brushing:
                   Teeth brushing is a vital aspect of pet oral hygiene and essential for maintaining dental health. Brushing a pet's teeth can help prevent plaque and tartar buildup, leading to gum disease and other dental problems. The process involves gently using a soft-bristled brush and pet-specific toothpaste to clean the teeth and gums. It may take some time for a pet to get used to the process. Introduce it gradually and make it a positive experience for them. Regular teeth brushing, regular dental check-ups, and professional cleanings can help keep a pet's teeth and gums healthy and prevent oral health problems.
                     These advanced techniques require additional training, skill, and experience and should only be performed by a professional groomer. Choose a groomer who is familiar with and experienced in these techniques to ensure a secure and sufficient grooming experience for your pet.
Pros and Cons of pet grooming
Pros of Pet Grooming:
Improved Health: Regular grooming can help detect any health issues early, such as skin infections, fleas, and ticks.

Enhanced Hygiene: Grooming helps keep your pet clean and free of dirt, oils, and other impurities that can cause skin problems and unpleasant odors.

Better Appearance: Regular grooming helps maintain your pet's appearance and keeps their coat healthy and shiny.

Improved Bonding: Grooming is an opportunity to bond with your pet and can help strengthen your relationship.
Cons of Pet Grooming:
Cost: Grooming can be expensive, especially if you choose to have it done professionally.

Time Commitment: Grooming requires time and effort, and finding the time to groom your pet regularly can be challenging.

Stress for Pets: Some pets may feel stressed or anxious during grooming, mainly if they are not used to it or have had negative experiences.

Inconvenient: Depending on where you live, finding a professional groomer or setting up regular grooming appointments may take a lot of work.
Buy Pet Grooming supplies and tools at the best price from Petco.pk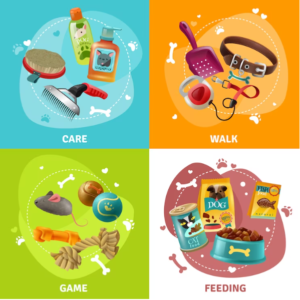 Pet grooming is essential to pet care, and Petco.pk offers a wide range of high-quality pet grooming supplies and tools at affordable prices. You'll find everything you need, from brushes and combs to shampoos and conditioners, to keep your pet looking and feeling its best. Whether you have a long-haired cat or a short-haired dog, it has the right grooming tool for your pet's specific needs. With their commitment to quality and customer satisfaction, you can trust this top-rated pet store to provide you with the best pet grooming accessories at a great price. So, visit the website to buy all your cat and dog grooming supplies and tools today!
 FAQs
How often should I groom my pet? 
The grooming routine depends on your pet's breed, coat type, and activity level. Generally, dogs and cats should be groomed every 4-8 weeks.
What equipment do I need for pet grooming? 
The basic equipment needed for pet grooming includes brushes, combs, shampoo, conditioner, and scissors or clippers.
Can I groom my pet at home or take them to a professional groomer? 
You can groom your pet at home with essential grooming tools. However, taking your pet to a professional groomer may be necessary for more complex grooming needs, such as clipping nails, trimming hair, or removing mats.
How can I make grooming a positive experience for my pet? 
To make grooming a positive experience for your pet, start with gentle brushing and massages, offer treats, and ensure your pet is relaxed and comfortable during grooming.
What kind of shampoo and conditioner should I use on my pet? 
The shampoo and conditioner you use on your pet depends on their coat type and skin condition. It's best to consult with a professional groomer or vet to determine the best products for your pet. You can buy the best pet grooming products at Petco.pk